Spring Season's 2nd Rival: Jay
Greetings from Com2uS!
The new Spring season starts on May 3rd at 8am PDT!
The second rival for the Spring season is Jay, the fire goblin!
Legend Women's High School is under the protection of the Fire Goblin Jay.
She is a conqueror who rules the district with an iron fist.
As peace settled in, she became bored with the lack of challengers, until a soccer ball landed in front of her.
She started playing soccer, which changed her entire life for good.
Jay will be available until May 17th 8am PDT. Meet her in 3 different difficulties! She awaits your challenge!
Clear the rival match and get Jay by chance. You can check the character details at the Player Book!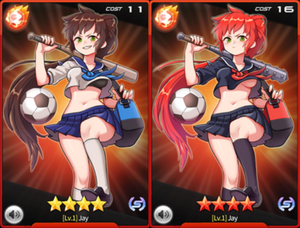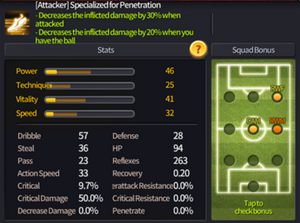 ※ You can't earn GP when you sell rival players. Rival players will not be available at the Scout menu.
Ad blocker interference detected!
Wikia is a free-to-use site that makes money from advertising. We have a modified experience for viewers using ad blockers

Wikia is not accessible if you've made further modifications. Remove the custom ad blocker rule(s) and the page will load as expected.