Greetings from Com2uS!
Enter the new Special Boss Match to fight against EA08 Vayne with Thunder attribute!
EA08 Vayne is one of the elite patimas assigned to protect the Mother when the Resistance lost interest, due to the opening of the Galaxy League.
EA08 Vayne is able to control androids and protects the Mother in the frontline with her strong body.
Please read below for more info on the Special Boss Match!
1. Event Period

2. Event Details
The Boss Match will be open from Nov. 14th to Nov. 16th.
The Special Match Against the Boss's men will be open from Nov. 9th to Nov. 20th only on the designated times.
Please note that the Special Match against the Boss's men won't be open when the Boss Match is available from Nov. 14th to Nov. 16th.
Special Match Schedule (PST)

1st: 10am - 1pm

2nd: 4pm - 7pm

3rd: 10pm - 1am

4th: 4am - 7am
Boss Match Schedule
Nov. 14th 7am - Nov. 16th 7am PST
You' earn Boss Points when you clear the Special Match.
Vayne's men and Spirit Stones are also available from the Special Match.
EA08 Vayne is also available by clearing the Boss Match.
The accumulated Boss Points will be refreshed on Nov. 23rd 7am PST.
Your chances of getting EA08 Vayne increases when you play higher difficulty modes.
3. Season Scout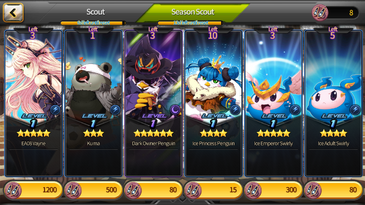 Ad blocker interference detected!
Wikia is a free-to-use site that makes money from advertising. We have a modified experience for viewers using ad blockers

Wikia is not accessible if you've made further modifications. Remove the custom ad blocker rule(s) and the page will load as expected.