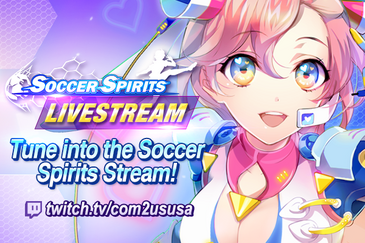 Greeting Soccer Spirits fans!
We are returning back for another round of streaming Soccer Spirits! Tune into our Soccer Spirits live Twitch stream on Thursday, Jan. 15th from 4pm - 5pm PST (GMT-8)!
When: 1/15
Stream Time: 4PM - 5PM (PST GMT-8)
Like, subscribe and follow us today on Twitch! See you on Thursday Jan. 15th!
Ad blocker interference detected!
Wikia is a free-to-use site that makes money from advertising. We have a modified experience for viewers using ad blockers

Wikia is not accessible if you've made further modifications. Remove the custom ad blocker rule(s) and the page will load as expected.