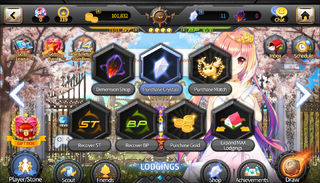 Shop can be accessed from the main screen by pressing shop icon in bottom right.
In the shop, players can:
Purchase at Dimenson Shop
Purchase Crystals with real money
Purchase Special Matches (Quest Matches) which can be completed to obtain certain rewards.
Recover all ST or BP for 10 Crystals
Purchase Gold with Crystals
Expand Max Lodgings by 3 slots for 5 Crystals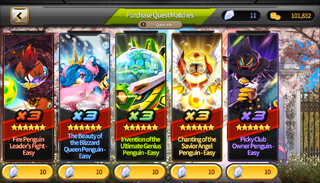 Crystal Shop
Edit

Crystals are the game's main currency. They can be bought using money and obtainable by various actions.
With crystals, players can draw characters, refill ST, BP, Arena Balls, Expand Max Lodgings, buy gold and etc.
Dimension Shop
Edit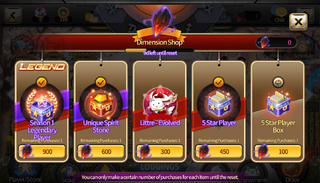 You can receive
Dimension Stones
by purchasing Crystals or get them as a reward
from Colosseum of Despair each Monday.
Dimension Shop and Dimension Stones were released after the 1st Anniversary patch, replacing  the Mileage Ticket System.
Gift Boxes can be bought at the Main Screen by pressing the Gift Box Icon for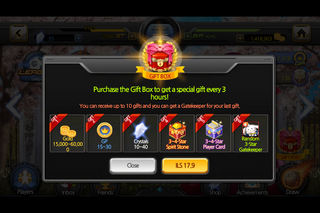 $4,99.
Gift Boxes contain 10 Gifts. Players can open one every 3 Hours. Gifts range from GP, Spirit Stones, Crystals, 3-4 Star Card and the last gift will always be a random Gatekeeper.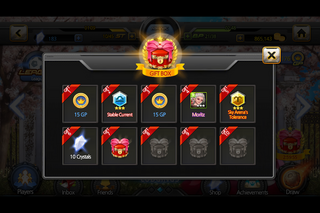 Beginner Package
Edit
After players buy the Beginner Special Package, they will receive an offer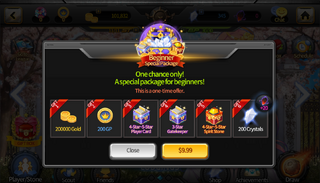 when the game is launched. Those offers contain bonuses for purchase as bonus crystals and player draws. The package costs $9.99.
The package includes:
200,000 Gold
200 GP
4-Star~5-Star Player Card
3-Star Gatekeeper
4-Star~5-Star Spirit Stone
200 Crystals
As a bonus for purchasing, the player gets 20 Dimension Stones
Intermediate Package
Edit
Once players bought BOTH Beginner Packages, the Intermediate Package will be available
1 Year Anniversary Special Package
Edit
NO LONGER AVAILABLE
Only available from May 15th to June 4th. The package costs $99,99.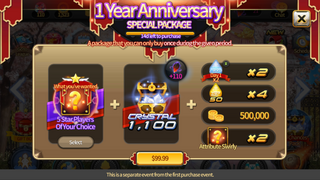 The package includes:
2x double exp days
50 x 4 ST
500,000 coins
1,100 Crystals
5-star player of your choice