Every team has ten players and one support. The support is free from any line or position and can be assigned anywhere in the team (except for the Goal Keeper spot) but does not benefit from positional buffs. By default it is placed by the right wing of their preferred line. The support player causes two players in the same line to position in the middle. This includes the support player itself if placed in the middle.
In PvE the support is either a friend, a club member or a stranger's displayed ace player. This includes Story Mode and Space Time Continuum. A friend's ace player has its ace effect, Spirit Stones and Teamwork active when using them; unlike strangers, who lacks the two former.
Players can add friends by either use a stranger's ace player and then sending a friend request after finishing the match, or by manually adding them by searching their name. A player cannot accept friend requests sent to you if their friend list is already full, and vice versa.
There is a cooldown before the same friend can be used again, specifically 1.5 hours. Using a friend as an assist in a match grants 10 FP to both you and your friend, while using a stranger grants only 5 FP.
In Colosseum of Despair there are no friend, club and stranger assist players. Colosseum of Despair Helpers are available instead: Lemy, Elizabeth, Chiffon, Net and Phil during normal stages. During champion matches, legends of the same attribute as the champion match faced are used instead. And rarely, during gatekeeper matches the gatekeepers' 6★ form are used as support.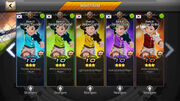 Just like the other PvE modes there are friend and stranger supports in Colosseum of Trials. Additionally along them are level 10 Helpers of each element in the first page.
In Colosseum of Infinity, the support player is the current player assigned in the team's support slot. The support player fully recovers their HP after each match, and is the only player who can be before each match.
In PvP the support is taken from the players' own team; the player assigned in the support slot. PvP modes include Galaxy League, Club Matches and Galaxy Live.
Some Sponsors' active skills gives gold accumulated to the number of registered friends.
Elizabeth was the only Colosseum of Despair Helper until October 26th, 2016.
Ad blocker interference detected!
Wikia is a free-to-use site that makes money from advertising. We have a modified experience for viewers using ad blockers

Wikia is not accessible if you've made further modifications. Remove the custom ad blocker rule(s) and the page will load as expected.