A friend's ace player is used as an assist player during PvE matches. You can add friends after using a random stranger then sending a friend request, or adding them manually by searching their names. There is a cooldown before you can use the same friend as your assist player again.
A friend'd ace player has its ace effect, Spirit Stones and Teamwork active when using them.
Colosseum
Edit
In
Colosseum of Despair
there
are no
friend and stranger assist players. You either get support
Elizabeth
for normal matches or
Metatron
for champion matches.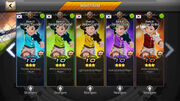 In Colosseum of Trials there are friend and stranger assist players, along with level 10 Helpers of each element in the last page to help you out on the challenges.
Some managers gives you a gold equivalent to the number of registered friends.
Using a friend as an assist in a match grants 10 FP to both you and your friend, while using a stranger grants only 5 FP.
You cannot accept friend requests sent to you if their friend list is already full.
The maximum friend requests are 30 at a time.
Ad blocker interference detected!
Wikia is a free-to-use site that makes money from advertising. We have a modified experience for viewers using ad blockers

Wikia is not accessible if you've made further modifications. Remove the custom ad blocker rule(s) and the page will load as expected.