Draw is a way to summon a new player. The Draw option is located in all 3 menu windows at the lower right corner of the screen. The button is marked by a falling meteor along with the word "Draw".
You can draw by using Crystals and Friendship Points. Premium Tickets are also given out periodically to players, which allow the drawing of 3-star to 5-star cards.
A Mileage system ensures that you get a
guaranteed
5-star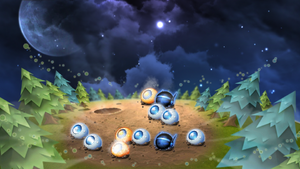 after a certain number of draws.
Event Tab
Edit
The event tab has a 5% rate for getting an Ultra Super Rare (5-star), a 22% rate for a Super Rare (4-star), and 73% rate for a Rare (3-star).
In the Event Tab you can draw for free every 72 hours. This is where you use your Premium tickets as well.
Over the week it has two modes, Weekday Event Draw and Weekend Event Draw.
During Weekday Event Draw, all players of the same grade share the same draw rate, and no drop rate boosts are active, even if new players have been added. The background illustration changes to display the newest characters with each addition, however this does not depict any drop rate increase and is just added for visual effect.
Weekday Event Draws run during the weekend, i.e. Monday to Friday.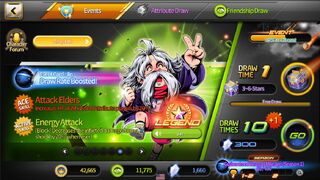 Weekend Event Draws run for 48 hours during the weekends, i.e. Saturday and Sunday. They feature a 3x increased chance for two Legendary Players, usually one from each season, and a 5-star player in each Element. The selected players change after two weeks, usually accompanied by a notice in the Events Section.
Other players have the same draw rates as in the Weekday Event Draws.
Getting a Rare (3-star) will give you additional 6 Glory Points (GP).
In the Event Tab, you are drawing from almost all the cards in the game, including Legendaries. You can't draw any special, boss, rival, manager or 2-star cards.
The 300 Crystal drawing option guarantees you a bonus 4~5 star card. The game draws eleven cards for you at the cost of 300 Crystals; this is widely regarded as the most cost-effective way of drawing cards using Crystals.
Season Mileage System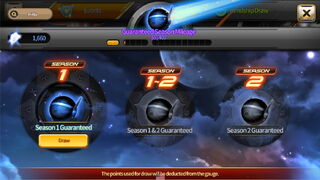 The Season Mileage System was added in the March 17th 2016 Major Patch. This system was made to help guarantee a pull for a player from a particular season.
Every Crystal Draw, Free Draw or Premium Ticket Draw from the Event tab contributes 10 points to the Season Mileage. A total of 4000 Season Points can be accumulated, which can be spent on the following:
500 points - Special trained 5~6* star Classic player
1500 points - Special trained 5~6* star Classic or New player
4000 points - Special trained 5~6* star New player
The Season Mileage Draw deducts from the Season Mileage Points, and does not cost any crystals. Doing a Season Mileage Draw does not contribute itself to Season Mileage Points.
The extra draw from the 10+1 Crystal Draws add to the Season Mileage Points.
Friendship Tab
Edit
Friendship Draw usually gives 3 - 6-star special cards such as:
managers
, penguins, evolution materials, and swirlies.
The drop rate in the Friendship Draw is currently unknown. It costs 200 Friendship Points (FP) each.
In the Friendship tab you can draw for free every 24 hours.
The 2000 FP draw option does not guarantee any rare cards nor does it give the player any discounts, unlike the 300 Crystal draw (which gives you 10+1 draws). It is just there so you do not have to tap the draw button frequently.
Drawing from the Friendship Draw is one of the Daily Achievements.
Ad blocker interference detected!
Wikia is a free-to-use site that makes money from advertising. We have a modified experience for viewers using ad blockers

Wikia is not accessible if you've made further modifications. Remove the custom ad blocker rule(s) and the page will load as expected.