Dec. 22nd 7am - Dec. 31st 7am PST
Special Christmas Stockings!
Select 1 Christmas Stocking out of 3 every day for a chance to win Crystals, Gold, Premium Tickets, a Player Draw Box, and a Spirit Stone Draw Box! (Resets every day at 7am PST)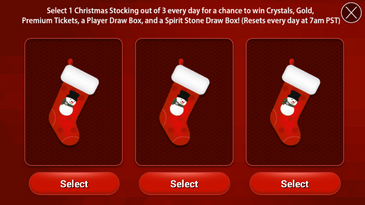 Notice
1. This event is for Soccer Spirits.
2. You may be charged additional data fees without WiFi connection.
Questions? Drop us a line at info@com2us.com.
Ad blocker interference detected!
Wikia is a free-to-use site that makes money from advertising. We have a modified experience for viewers using ad blockers

Wikia is not accessible if you've made further modifications. Remove the custom ad blocker rule(s) and the page will load as expected.