Stop the Balancing Patch!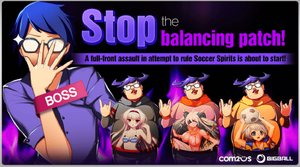 Hi, it's Com2us!
"He" is the one responsible for all the balancing patches that have wrecked havoc on Soccer Spirits.
Now you have a chance to put an end to this!
Stop his attempt to make extreme balancing patches that might just bring an end to this game!
The Special Match will be available for just 2 days, starting right now!
■ Event Schedule
-From Mar 31st 8am - Apr. 2nd 8am PDT.
■ Event Details
The Special Match: Update of Doom will be available. "He" and his minions will be facing you at the Special Match!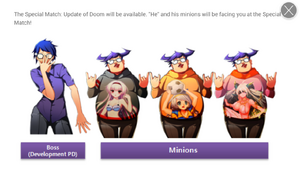 There will be 2 different difficulties for the Special Match. You will be able to collect 3 different types of Development Plans when you clear the Special Match.
The Development Plans can be sold for GP or Gold, and contains the history of Soccer Spirits and sneak peek for the next update.

Duke it out with the developers of Soccer Spirits!
Defend Soccer Spirits from their ruthless development plans!
For a few hours after the event went live the drop rate of the Bloody Development Plan was set very high by mistake. There was a quick maintenance to fix it. Some people made several hundred GP off it.
Enemy
Reward
Bloody Development Plan (20GP)
Brilliant Development Plan (1gp 423gold)
Shredded Development Plan (6000gold)
Ad blocker interference detected!
Wikia is a free-to-use site that makes money from advertising. We have a modified experience for viewers using ad blockers

Wikia is not accessible if you've made further modifications. Remove the custom ad blocker rule(s) and the page will load as expected.