Fifth Spring Festival Season - Rudy
Greetings from Com2uS!
The rival of the 4th Spring Festival Season is Litz!
Z211 Litz is the leader of the spies sent to keep an eye on EA01 Luka, who ran away from the Mother. Litz joins Luka in becoming one of the Prometheus but isn't too sure about the decision
Z211 Litz will be waiting for your challenge until Apr. 12th 8am PDT!

Clear the 3 matches with different difficulty levels and you'll be able to get Rudy with a fixed chance!

Please check the Player Book for more info on Z211 Litz.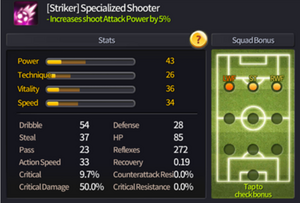 * Rival Players can't be sold for GP or traded, and are not available for scouts or Special Training.
Thanks!
Ad blocker interference detected!
Wikia is a free-to-use site that makes money from advertising. We have a modified experience for viewers using ad blockers

Wikia is not accessible if you've made further modifications. Remove the custom ad blocker rule(s) and the page will load as expected.