Second Spring Festival Season - Kalkrish
The rival of the 2nd Spring Festival Season is Kalkrish!
Kalkrish is an Energy Ball expert who resisted against the experiments and torture from the Kanrau Lab, but ended up giving in to Cruzentes' dark power.
Kalkrish will be waiting for your challenge until Mar. 22nd 8am. (PDT)
Clear the 3 matches with different difficulty levels and you'll be able to get Kalkrish with a fixed chance!
Please check the Player Book for more info on Kalkrish.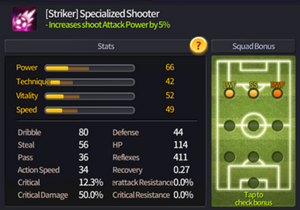 * Rival Players can't be sold for GP or traded, and are not available for scouts or Special Training.
Ad blocker interference detected!
Wikia is a free-to-use site that makes money from advertising. We have a modified experience for viewers using ad blockers

Wikia is not accessible if you've made further modifications. Remove the custom ad blocker rule(s) and the page will load as expected.